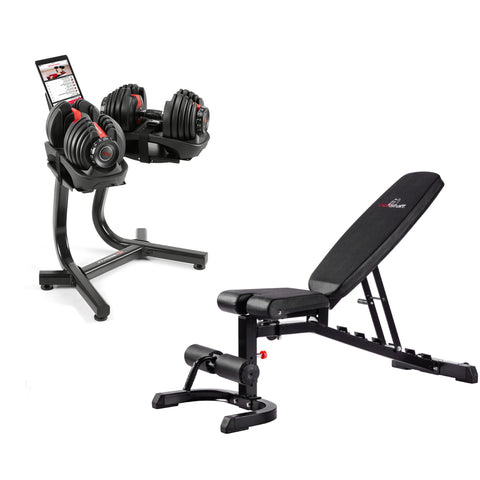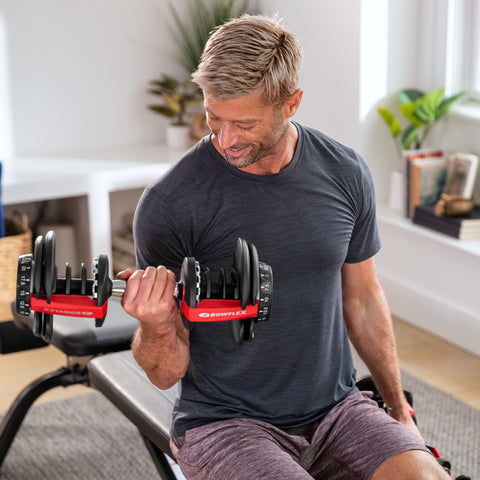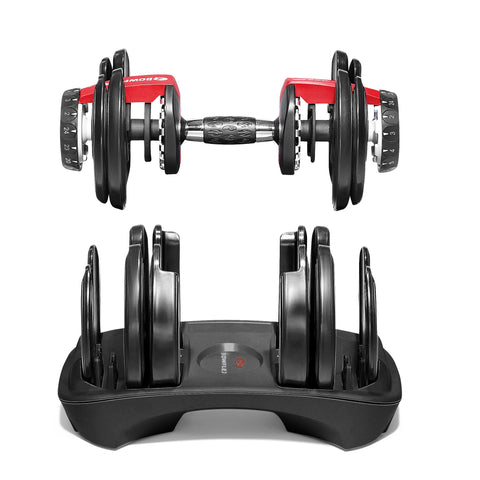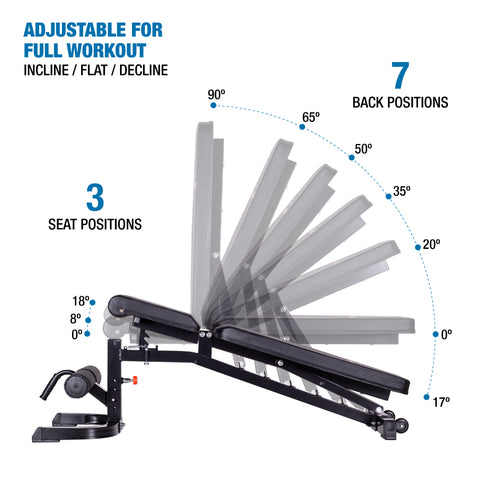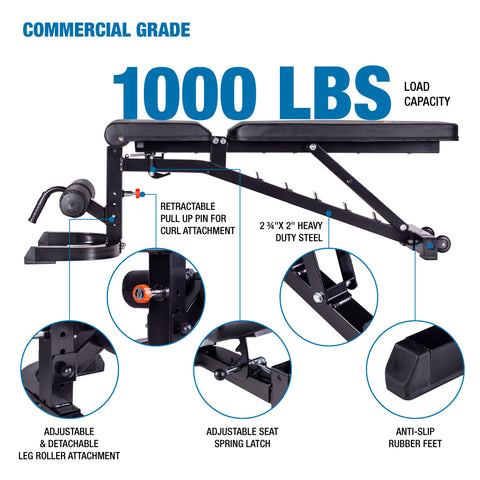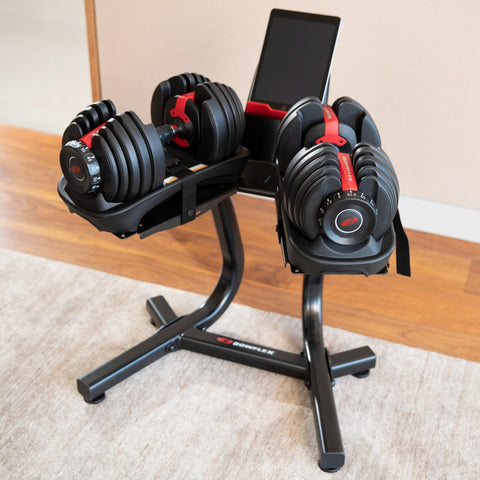 Bowflex SelectTech 552 Adjustable Dumbbells with Stand & Bench
$750.00
$831.00
SAVE $81.00
Checking delivery availability
Checking local availability
Checking local availability
Get everything you need for a complete home gym with this bundle. This all-in-one set gives you adjustable dumbbells, heavy-duty steel stand and an incline/decline/flat bench so you can create the perfect workout space in any room. The innovative dial system makes changing weights easy and fast, for more effective workouts and quicker progress toward all your fitness goals.
This combo includes:
(2) x Bowflex SelectTech 552 Adjustable Dumbbells
(1) x Bowflex SelectTech Dumbbell Stand
(1) x AmStaff TS010A Adjustable Incline/Decline/Flat Bench
AmStaff TS010A Flat / Incline / Decline Bench
Get a full-body workout with the toughest Flat to Incline/Decline Bench available! AmStaff Flat to Incline/Decline Bench is heavy duty and fully adjustable to give you a solid workout! The AmStaff bench is made to take as much as you can give it and is the ultimate bench for a complete free-weight workout! Solid, compact and effective, this bench is strong enough for gym use, while designed to fit into any home.

Product Specifications;
- Fully adjustable from Flat to Incline (90 degrees) and Decline positions
- Gives you some of the best free weight exercises to build a rock solid body!
- Perform free-weight exercises knowing you are safe, with high quality padding you will not bottom out and can build your muscles to the max!
- Quick and easy seat and back pad adjustment handles 
- Dual rear transport wheels which allows you to easily move and roll the bench anywhere you like without having to pick up the bench completely
- Non slip rubber feet give you a solid and stable workout
- Removable handle and leg pad attachment for intense decline exercises
- Built to last high quality heavy-guage steel that supports even the toughest of workouts
- Strong and durable high density gym quality thick foam padding
- Dimensions: 19.5"H x 24"W x 61"L
- Assembly required.
View product details
Bowflex SelectTech 552 Dumbbells - Pair
These adjustable dumbbells replace 15 sets of weights. Weights adjust from 5 to 52.5 lbs in 2.5 lb increments up to the first 25 lbs. Easy-to-use selection dials for adjusting weights. Easily switch from one exercise to next and with the turn of a dial you can change your resistance, enabling you to gradually increase your strength. Versatile workout for your legs, back, chest, abs, shoulders and arms. Compatible with the free Bowflex SelectTech® training App for iOS and Android.

Select the Weight You Want with a Turn of the Dial?
No more picking up 30 different dumbbells to give you the results you want!

Space Efficient
Say goodbye to 15 sets of dumbbells cluttering your workout space.

Wider Weight Range
With weight that adjusts from 5 to 52.5 lbs., you'll continue to see results as your fitness level improves.

Quieter Workouts
Durable molding around metal plates provides for a smooth lift-off and quieter workouts...no clanging metal plates!

Total Body Results?
With the wider weight range you can do heavy exercises such as shrugs and lunges as well as lighter exercises such as curls and raises.

Weight Range
5 to 52.5lbs (2.27 to 23.8kg) for each dumbbell

15 Weight settings
5, 7.5, 10, 12.5, 17.5, 20, 22.5, 25, 30, 35, 40, 45, 50 & 52.5lbs

Dimensions: 15 3/4"L x 8"W x 9"H

Warranty: 2 years
View product details
Bowflex SelectTech Dumbbell Stand
Your workout just got smarter. The Bowflex® SelectTech Dumbbell Stand with Media Rack provides one convenient place for weights and technology, making it the perfect combination of form meets function. Designed with safety in mind, you'll never have to bend down to pick up weight - ever again. With easy access to programs, training videos and more, you can focus on goals and leave the guesswork behind. Once you go rack, you'll never go back. Compatible with Bowflex® SelectTech® 552, 560 and 1090 dumbbells.
Features
- Ergonomically designed to help protect your lower back
- Fits any tablet or smart phone (not included)
- Fits Bowflex® SelectTech® 1090, 560 and 552 dumbbells (not included)
- Compact design for an ultra-small footprint
- Download the FREE Bowflex® SelectTech® App for pre-loaded workouts and 70+ step-by-step coaching videos
Specifications-
Dimensions: 25" H x 26.4" W x 26.9" L
- Warranty: 10-year on frame, 1 year on media rack
View product details